CARTER & CARTER's TAMWORTH 2018 SHOWS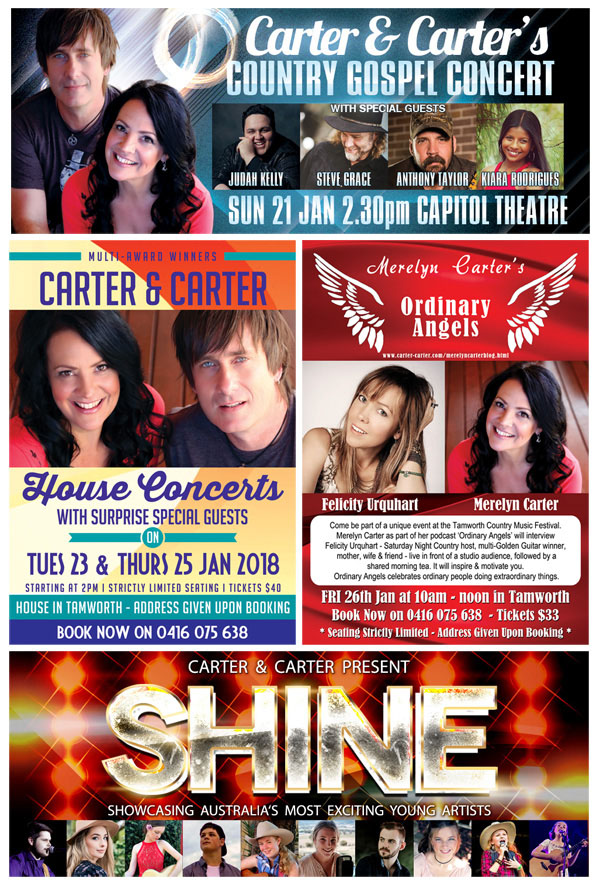 Carter & Carter Country Gospel Concert
Sun 21st Jan - 2.30pm Capitol Theatre
with special guests
Judah Kelly
Steve Grace
Anthony Taylor
Kiara Rodrigues
and a CMAA graduates choir.
A celebration of country gospel music and a great way to start your festival.

---
Carter & Carter
House Concerts
Tues23 & Thurs 25 Jan 2pm
Private House in Tamworth
with surprise award winning special guests and afternoon tea and drinks.
Tickets strictly limited to 50 per show.
---
Live Taping of

Merelyn Carter's 'Ordinary Angel' Podcast
Fri 26 Jan - 10am
Private House in Tamworth.
Merelyn will interview Golden Guitar Winner and Saturday Night Country Host
Felicity Urquhart
and the event will be recorded live followed by morning tea. 'Ordinary Angels' a podcast about ordinary people doing extraordinary things
---
Shine 2018
Wed 24 Jan - 2.30pm
Capitol Theatre Tamworth
A showcase of some of Australia's most exciting emerging talent presented by Carter & Carter. With a list of new performers including:
BLAKE O'CONNOR, GEORGIE TAYLOR, HATTIE OATES, JORDANNA JONES, LEYON MILNER, LUCY PARLE, MAXINE BAKER, TRINITY WOODHOUSE.
And, returning favourites: KIARA RODRIGES, LIAM KENNEDY-CLARK and PHEOBE JAY.
Don't miss your chance to come and see and support these young emerging artists. You never know you might just see the next Judah Kelly – Voice Winner and past SHINE performer, Keith Urban or Kasey Chambers.
---